Filter by Category
Fourth Grade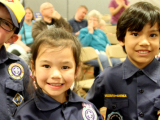 Cub Scouts
with Jennifer McCreary

Sep 5, 2019 at 6:16 pm
This program meets off site and this registration information will be given to the Cub Scout leader so she can contact you about joining the Scouts. This program will help students develop new skills, new interests, practice sportsmanship, good citizenship and learn to do their best. You will take care of any fees directly with the Cub Scout leader. This program meets on the 1st and 3rd Thursday of each month. 
Girl Scouts
with Abigail Sutter

Sep 28, 2019 at 10 am
The troop that meets at GRCDC is full. If you would like more information about troops in the area that still have openings, please register for this class. The troop leaders will contact you with more information. 
Full Course
Let Me Run
with Andrew Kleinschmit
Let Me Run is a running club for 4th & 5th grade boys. Club will start in March/April of 2020. By registering here you are showing your interest in the club and you will be contact with additional details closer to the time the club will begin. There is a fee that will be paid directly to the Let Me Run organization and there are scholarships available if needed. 
Dismissal location will be the playground